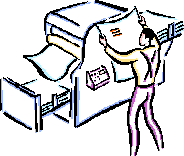 Welcome to Printing and Design's new digital storefront
Office Hours: Monday - Friday 7:30 a.m. - 4:30 p.m.
We are closed Friday after Thanksgiving and the week of Independence Day.
New Users - To register for our storefront, click "login" at top right. Use your UWSP login and password to login. Do not use the "@uwsp.edu" after login name for this site.
Fill in fields with your information and submit. We will contact you for the account number or numbers you will need for your profile.
You will not be able to place orders until we activate your profile and assign an account number or numbers.
In-House Printing
Printing and Design provides quality convenient affordable large or small volume black or full color printing, bindery services and much more. We serve UW-Stevens Point faculty, staff and students along with Government/State Agencies and the public. We are a service-oriented organization. In-house, we can produce a wide variety of booklets, brochures, carbonless forms, business and greeting cards, letterheads, envelopes, 2.25" promotional buttons, stickers, posters, flyers, newsletters, consecutively numbered raffle tickets, course packs/manuals, and class materials.
Printing and Design makes every effort to keep near the cutting edge of rapidly advancing technology in the graphics industry. We are a digital workflow environment for a higher quality output directly from digital files. We are able to accept files from both Macintosh and Windows platforms but do prefer pdf files. Our new color copiers have the latest five-color technology including the ability to print clear and white. We will have more new services coming in the future.
We at Printing and Design would also like to take this opportunity to thank our customers for their continued support and to invite those of you who have not yet worked with us to do so. If you have any questions regarding any of our services, feel free to contact our manager Robin Spindler at ext. 2037
There is a $4.00 minimum on all in-house print orders.
If your print project is for external audiences you must get approval from University Communications and Marketing. See link to Communication Standards Manual below for more information.
For mailing projects please contact United Mailing Services at 715-843-5243.
Use UMS for MAILING ONLY.
All printing will still go through Printing and Design and the campus print manager Robin Spindler per state regulations.
Off-Campus Printing
Printing and Design is the print purchasing agent for the campus, with authority to purchase printing from the private sector. Printing and Design is responsible for ensuring that all off-campus printing using state monies is purchased in accordance with state law and policy.
The purchase of printing in Wisconsin has traditionally been handled differently than the purchase of other commodities. The Department of Administration has delegated the power to purchase print and, almost without exception, state agencies have chosen to maintain the separation between general purchasing and print purchasing. This allows the assignment of an Agency Printing Manager, a person with printing expertise who understands the entire printing process and the myriad of manufacturing options available to achieve exactly what the customer wants. The Agency Printing Buyer for the University of Wisconsin-Stevens Point is Robin Spindler.
To assist the assigned Agency Printing Managers, the DOA's Bureau of Procurement has developed a series of contracts for the purchase of virtually any type of printing that might be required by state agencies. Chapter 35 of the Wisconsin Statutes defines printing and established the classes of printing and contracts that the Department of Administration bids. The prices associated with these contracts are excellent, and if a printing order meets all of the specifications that are covered by a state contract, the Agency Printing Manager will use that contract to purchase the printing. If the printing requested does not fit a state contract, competitive bidding is required by Chapter 35 of the Wisconsin Statutes. The Agency Printing Manager will request three bids, and the printer that submits the lowest bid that fulfills the printing specifications will be awarded the job.
Chapter 35 of the Wisconsin Statutes exempts printing funded by student segregated fees from the statutes requiring the use of a state printing contract. These accounts may choose to take advantage of a state printing contract, or — using the services of the Agency Printing Manager — they may choose to request bids from three printers in the private sector.
Printing orders that fit the state printing contracts or are executed through the competitive-bid process are subject to a purchase order fee from Printing and Design.
Sources: Constitution of the State of Wisconsin, Article IV, Section 25; Wisconsin Statutes Chapter 35
---