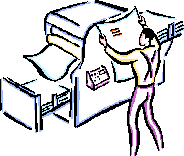 UWSP Printing and Design has a new digital store front.
Welcome to Printing and Design's new digital store front.
We offer large or small volume black or full color copying and printing, bindery services and more to UW-Stevens Point faculty, staff and students and Government/State Agencies in the Stevens Point area. We are a service-oriented organization. In-house, we can produce a wide variety of booklets, brochures, forms, business and greeting cards, letterheads, envelopes, 2.25" promotional buttons, stickers, posters, flyers, newsletters, consecutively numbered raffle tickets, course packs/manuals, and class materials.
If your print project is for external audiences you must get approval from University Communications and Marketing. See link to Communication Standards Manual below for more information.
Printing and Design makes every effort to keep near the cutting edge of rapidly advancing technology in the graphics industry. For example we have networked all our copier/printers for a higher quality output directly from digital files. We are able to accept files from both Macintosh and Windows platforms. Our new color copiers have the latest four-color technology, producing great quality color copies. We will have more new services coming in the near future.
All of us at Printing and Design would also like to take this opportunity to thank our customers for their continued support and to invite those of you who have not yet worked with us to do so. If you have any questions regarding any of our services, feel free to contact our manager:
---